Maxima is the new official partner of Sassuolo Football Team in the Italian Serie A Championship 2014-15
Maxima and Sassuolo Football Sports Union have signed a well-chosen partnership for 2014-2015 football season. The company with its headquarters in Poviglio (RE), Italy, is leader in the distribution of diamond tools and building equipment for cutting and drilling and has now chosen to be partner of the black-green team, who is competing for the most amazing and difficult football championship in the world: the Italian Serie A.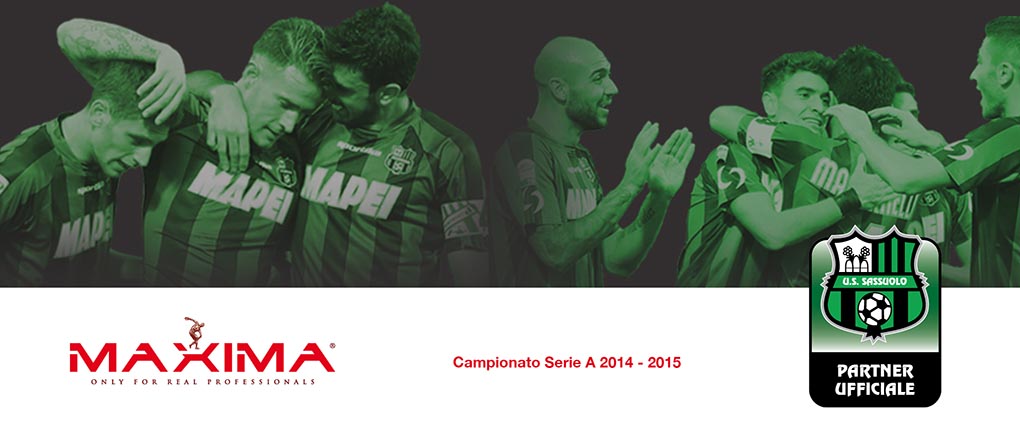 Passion, simplicity, reliability and competence are some of the distinctive features that join Maxima and the Italian team based in Sassuolo (MO). Such features have enabled both of them to assert both in Italy and abroad. The strong bond with the territory (Sassuolo Team plays its matches in Reggio Emilia Mapei Stadium) and love for their job, make of these two enterprises the main characters in their field.
With this new partnership, Maxima keeps showing its strong trust in sports, which is a vehicle of positive values capable of reaching thousand people, especially the young, going beyond the national borders. Maxima has already chosen prominent sports characters as its testimonials: in 2012 it was Martin Castrogiovanni, famous champion of the Italian rugby team, who embodies power, sense of duty and transparency. In 2013 it was Fabio Cannavaro, who was then the captain of the Italian football team and former world champion in 2006, a winning and transversal personality, perfectly fitting for Maxima.
"We have decided to invest in our territory, exploiting whatever it might offer us – explains Mr. Mirco Dall'Olio, owner of Maxima – we are really proud of our former testimonials, but I strongly believe that in this moment it's fundamental that we trust and support first of all our territory and also a team, aiming our efforts at the strength of a team made of people and professionals, instead of a single person".
This partnership with Sassuolo Football Team is only the latest news announced by Maxima. A few days ago it was announced also the new entry of some important products, among which Caromax 1600 with water, a specific drilling machine designed for plugging, suitable to drill in depth also reinforced concrete and to install earthquake proof systems, and also the Centering Piston, an innovative centering system, economic, easy-to-use, and versatile.
Excellence and talent. Quality and concreteness. With these last initiatives Maxima has shown once again its engagement in investing in future, committing its energies and resources to improve and increase the range of products and services to offer, constantly giving the end user a primary importance and keeping steady values around which the company was founded and has developed during the years.